Create the camera ready space of your dreams with these five tips for rustic home décor perfection. All it takes is an understanding of a few basic principles, a little patience, and a curator's eye to bring your room together mixing high and low, old and new.
If your Instagram feed is full of dreamy vacation rentals and designer interiors, or you spend your downtime researching DIY hacks online and can't wait to recreate the look in your own home, we know the feeling. While there is no single playbook for rustic interior design ideas, that's part of the fun. There's so much flexibility to bring in pieces you already own and embrace the flaws and funky features that make your home unique.
From minimal plaster walls that let light be the focal point of the room, to cozy wood paneled ski cabins, to delightfully eclectic interiors, we'll illustrate techniques you can bring home and try on your own.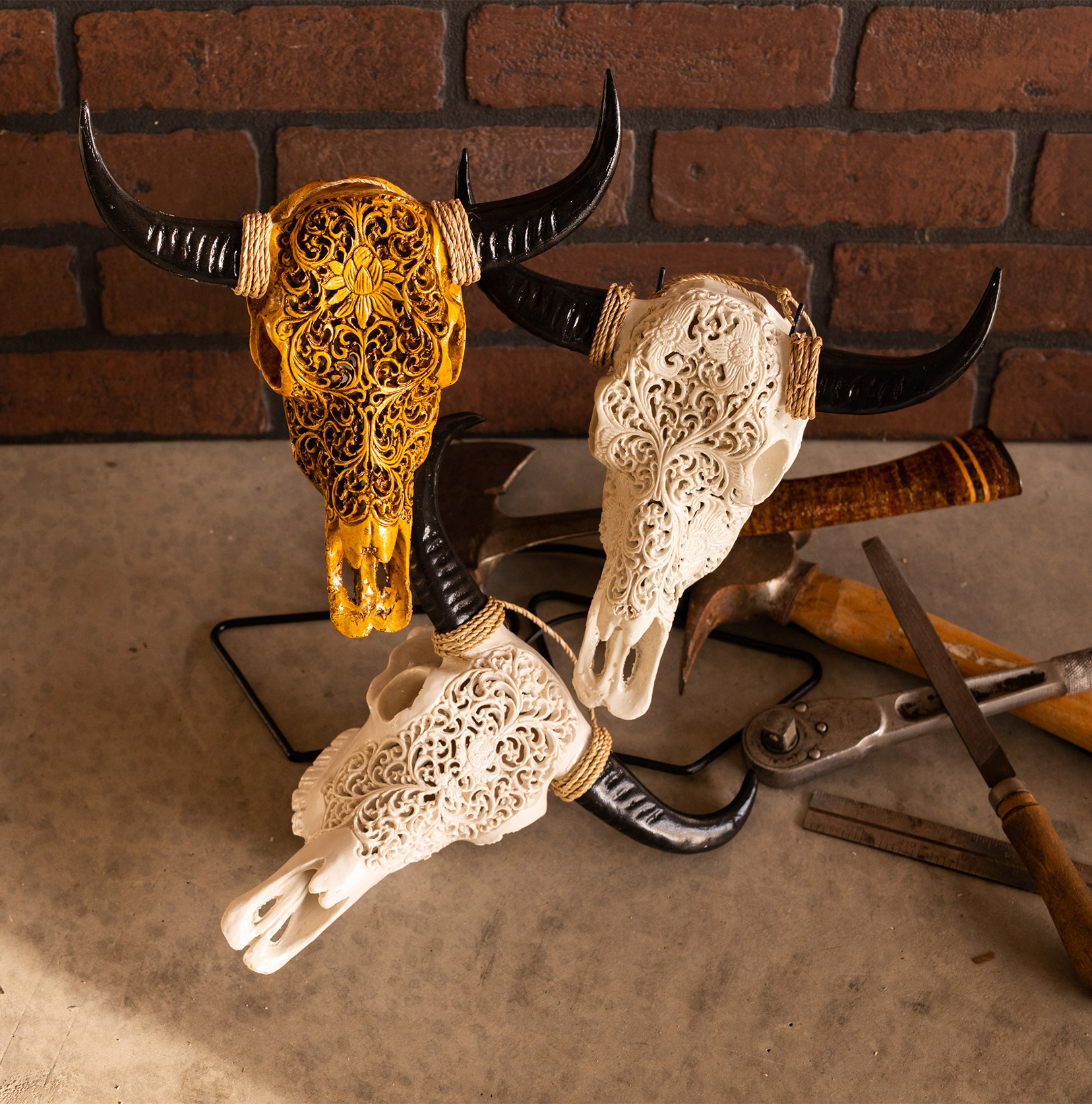 ---
Rustic Interior Design Idea #1: Work with What You Already Have
Whether it's a farmhouse in the French countryside, a woodsy mountain hideaway, or an edgy city loft, rustic interior design starts with the bones of the house. This style is not meant to be perfect, so don't sweat if your place has some rough edges. In fact, leaning into the flaws creates contrast and intrigue. Have a wall with rough and chipping plaster or exposed brick and monstrous support beams? Let it be what it is. You can build a story around almost anything by hanging a funky gallery wall, installing creative lighting, or showcasing plants of different heights alongside.
Our first rustic design tip counts for your furniture and décor too. You may have some interesting pieces waiting to be given new life in a different context. If you feel like you're stuck in a design rut, it might be fun to call on a friend (or poll your social media peeps) to get fresh ideas for placement of items you already own.

"Be faithful to your own taste, because nothing you really like is ever out of style."
Rustic Interior Design Idea #2: Master the Art of High Low
If you've ever walked into a house where everything felt eerily flat and sterile (like a chain hotel) and wanted to run out the door, you're not alone. A major mistake people make is to outfit an entire room from a single store and buy everything at the same time. For a rustic design strategy to work, it needs to feel lived in. And, surprisingly enough, buying things as you go (and as you can afford them) has its perks. If you just invested in a lifetime piece that you had your heart set on (like the perfect leather sofa), your budget may be tighter when it comes time to accessorize the rest of the room.
Hit up thrift stores and flea markets in your travels, support makers and artisans in your own community, or get crafty creating wall hangings or throw pillows yourself. Don't worry if your place isn't Insta-worthy in a single day. Good things take time to curate and time to find.
---
Rustic Interior Design Idea #3: Think Like a Curator

A well thought out coffee table or shelf of found objects can add tons of intrigue to a room. Think of your shelves as display cases for rocks and seashells you've collected on a walk, glass bottles, trinkets, ceramics, and interesting books. If you're dying to get one corner of your house dialed in and camera ready in a single weekend, start here. You can always update and add to it when you find new objects or grab that perfect apothecary tray a tag sale.
Curation is equally important for your wall hangings too. Try giving big statement pieces room to breathe (perhaps over a bed or couch), and group smaller items together in little vignettes that show off the collection as a whole. Remember, paintings don't always have to go on a bare wall. Don't be afraid to prop them up on the end of a desk or console table with your collection to add another layer of depth and appeal.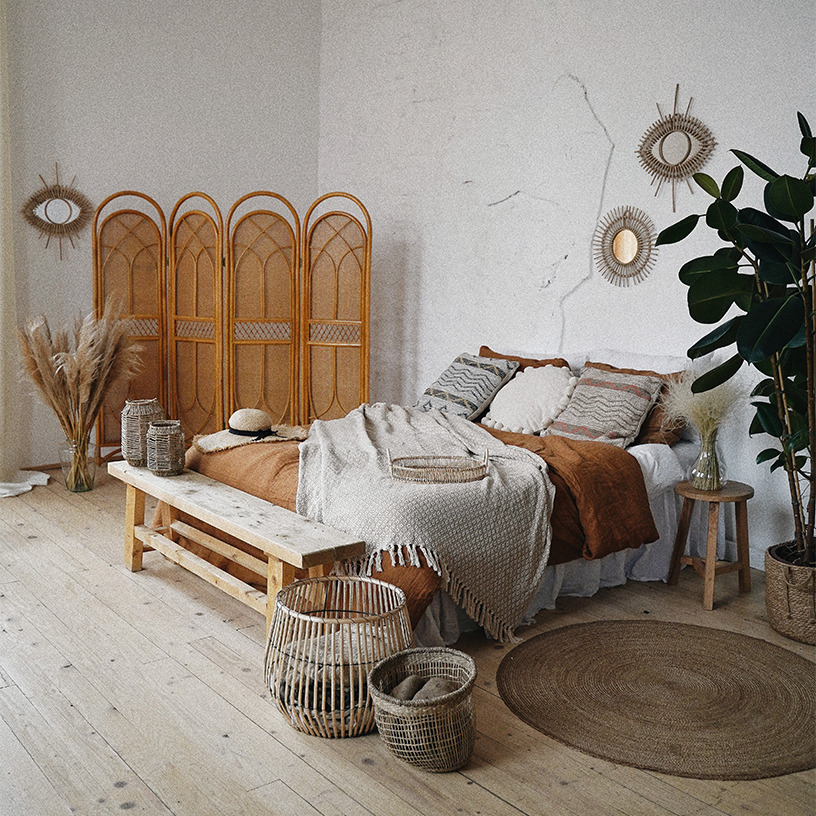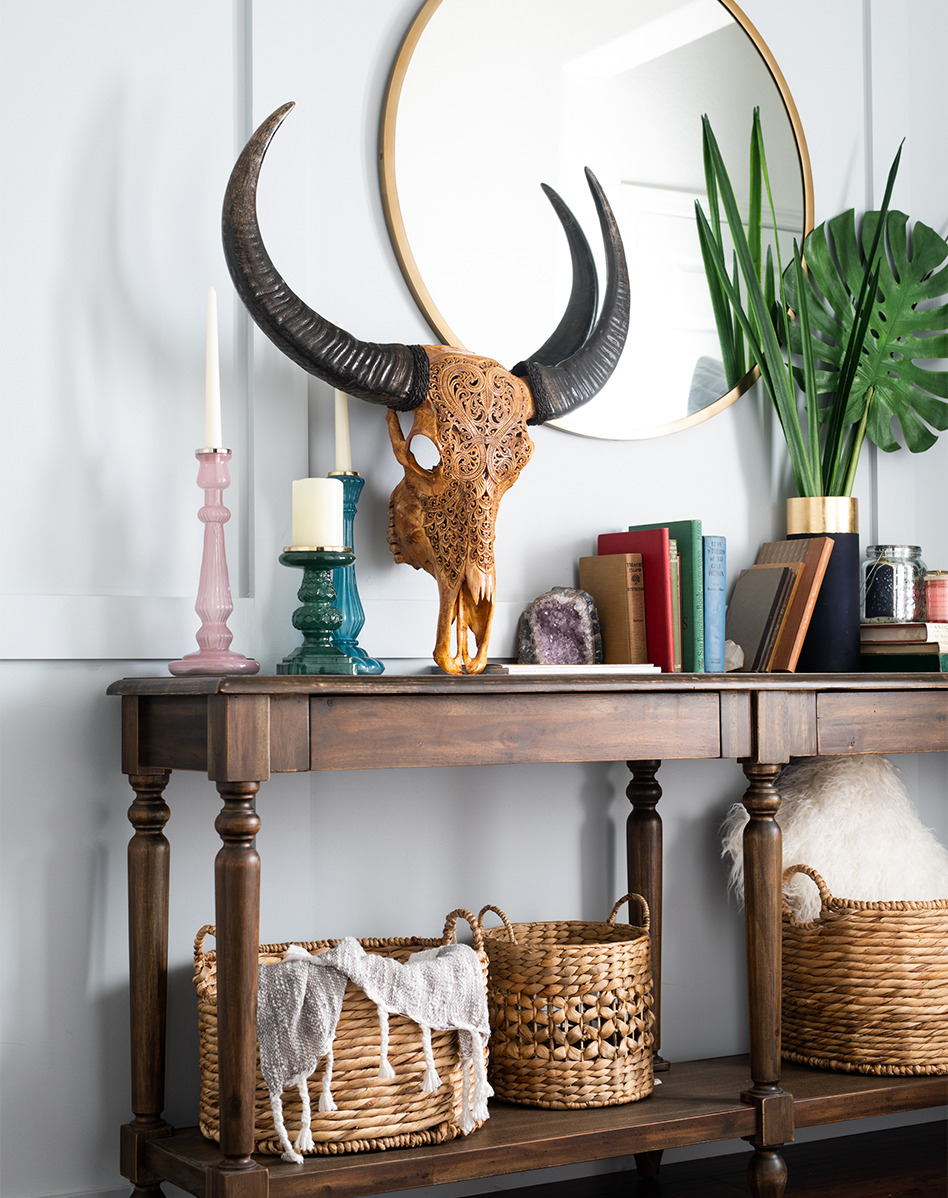 ---
Rustic Interior Design Tip #4: Bring the Outdoors In
Rustic design, by its very nature, is closely tied to the outdoors. Ski cabins and hunting lodges were often made with and filled with things you could find nearby. For the classic log cabin look, skulls, antlers, taxidermy, and animal hides have always been a go-to. If a full on natural history museum isn't quite your thing, pick a single animal based item, and make it the centerpiece of the room.
One of the easiest rustic interior design ideas is to add some greenery indoors. Bring home cut flowers (or pick your own) to instantly dress up a dining table or small bathroom. Living plants are beyond popular these days, and you can find almost anything to suit your room's mood. For darker lodge like spaces, try a potted redwood or Norfolk Island pine. And for bright and airy rooms with a white or pastel wall, add a monstera or stately cactus to give the space some life.
---
---
Rustic Interior Design Idea #5: Create Areas of Contrast
Contrast might be the most powerful rustic design principle of them all. But remember, color is not the only way to show contrast. If you're into a monochromatic look, try experimenting with scale, lighting, and surface textures to create a lush, layered feel.

Like flowing water and slick rocks, freshly fallen snow and towering trees, rustic interior design mixes surface textures perfectly. Pile poufs and eclectic pillows over a bare concrete floor. Try hanging tapestries, curtains, or macramé to soften the lines of a room. Pair industrial or reclaimed materials with luscious bedding, carpets, and throws. However you style it, combining soft and hard surfaces reinforces the comfortable, lived in ethos of rustic design. After all, what's more rustic than a place you can actually live in?