Get ideas and inspiration for taking your space to the dark side from a DIY obsessed stage dresser and bassist for a Dark Wave band. Whether you're decking out a Gothic revival manor in the English countryside or customizing a rental apartment in the suburbs, these easy design hacks will have your place looking sultry and matching your mood.
---
The Origins of Goth Style: Embodiment of Life and Death
"Life isn't always bright and sunny, there's darker undertones to it," says Cindy Astorga, bassist for the Dark Wave band Bastet. "I think that's why we lean more or less toward the aesthetic of the occult and the hidden aspects of life that shouldn't be really shown," she continues, describing the allure of Goth and Dark Punk subcultures.
When she's putting together wardrobe or stage décor for Bastet shows, she embraces the dark strength and the light in all of us. "The undertone of Goth is essentially celebrating life and death," says Astorga. "It's not just a look or an aesthetic, it has meaning behind it," she points out, referencing ancient and contemporary cultures with a dual sided perspective of death.    
Astorga takes inspiration from rituals that celebrate life while showing reverence for death - Creole Fat Tuesday processions, Mexican Día de los Muertos festivities, and ancient Egyptian civilizations. "They were about death and embracing that. And also embracing life," says Astorga. "They knew that life wasn't complete without death."
"There's all these parts that we often forget," she says, "but you know, they thought of a skull as being more beautiful than macabre. It's more of a representation of life to see a skull." Astorga incorporates cow skulls into her own home décor, and takes the metaphor one step further by adding dried flowers and epiphytes into the equation. "That kind of refers back to embracing life and death - all in one - in a very decorative fashion," she says, suggesting Gothic décor fans incorporate the plants into a skull's eye sockets or other cavities.
"The undertone of Goth is essentially celebrating life and death. It's not just a look or an aesthetic, it has meaning behind it."
Gothic Home Décor Ideas: Paint & Hardware
If you've been studying Gothic home décor trends online, you've probably seen rooms with deeply saturated or even black walls. While full of mood and mystery, painting your walls a dark color isn't right (or possible) for everyone. "I'm in this situation where all my walls are white," says Astorga. "You don't have to commit yourself to a huge project like painting your whole interior a dark color," she says, suggesting that renters or non-committal folks try a slate or lighter gray that could be easily painted over.
If you do opt for a darker wall color or a sumptuous flocked wallpaper, your switches and grates are really going to stand out (and not in a good way). No matter what color your walls, upgrading your home's hardware takes little more than a screwdriver. Pop off switch covers and furnace grates and swap them with decorative brass or antiqued metal replacements (available at most home improvement stores). Or for a DIY hack, pull them off and spray paint them yourself for a bespoke color match. While you're at it, replace door knobs and cabinet or dresser pulls with unique finds like porcelain, distressed metal, or cut glass.    
---
Gothic Home Décor Ideas: Window Treatments & Lighting
While often overlooked, window treatments and lighting can be the difference between a room that feels grandiose and a room that feels bland. Curtains can filter direct light (and help you get your beauty sleep), while electric lighting controls and enhances the vibe. "I don't have any hard light, it's always been soft lighting," says Astorga. "Soft light and colored lighting help with the mood. It definitely calms you down," she suggests. "It's a lot cheaper than a therapist bill."
Astorga has been experimenting with their stage lighting at home when the band is not performing. She's been trying out projections and colored light in her personal space - a flexible alternative to painting her walls. "That's been kind of fun because it changes your whole aesthetic inside your house," she says. "If you go with a purple or a blue, it fills the whole room with a different mood." If you don't have a projector or stage lighting handy, try adding LED rope lights or a dimmable novelty lamp, such as hand-carved skull lamp, to a hallway or transition zone for illumination that's radiant without overpowering the adjoining room.  
"There's all these parts that we often forget, but you know, they thought of a skull as being more beautiful than macabre. It's more of a representation of life to see a skull."
Gothic Home Décor Ideas: Furniture & Textiles
The biggest investment for most interior design aficionados is furniture, and Gothic home décor is no exception. Depending on the size of your space, scale is going to be an important factor in creating drama. If you can swing it, look for a few show stopping pieces for each room like a tufted velvet or leather Chesterfield sofa or a couple of Edgar Allen Poe worthy antique wing chairs. Finish off your cozy book nook with a black sheepskin rug or jewel toned brocade throw.
For the bedroom, look for an ornate, cathedral style headboard or a four poster bed that you can drape swags from. "What really works well with my bedroom right now is dark bedding," says Astorga. "Dark bedding can really change the mood of the room."
---
Customize your vibe with an infinitely dimmable, incredibly detailed skull accent lamp.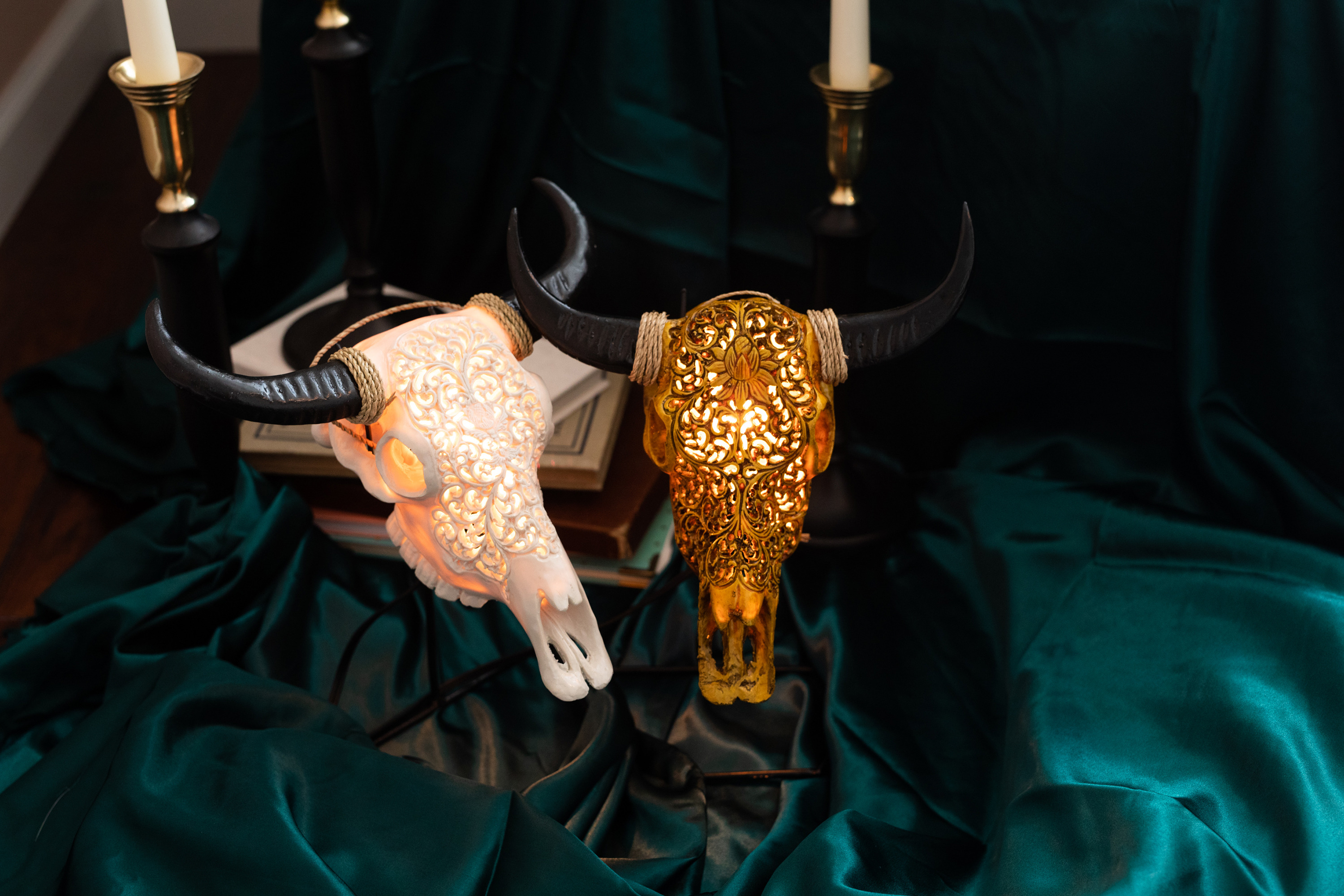 Carved by hand from genuine animal skulls, these ornate wall hangings transcend death and carry on a centuries old tradition.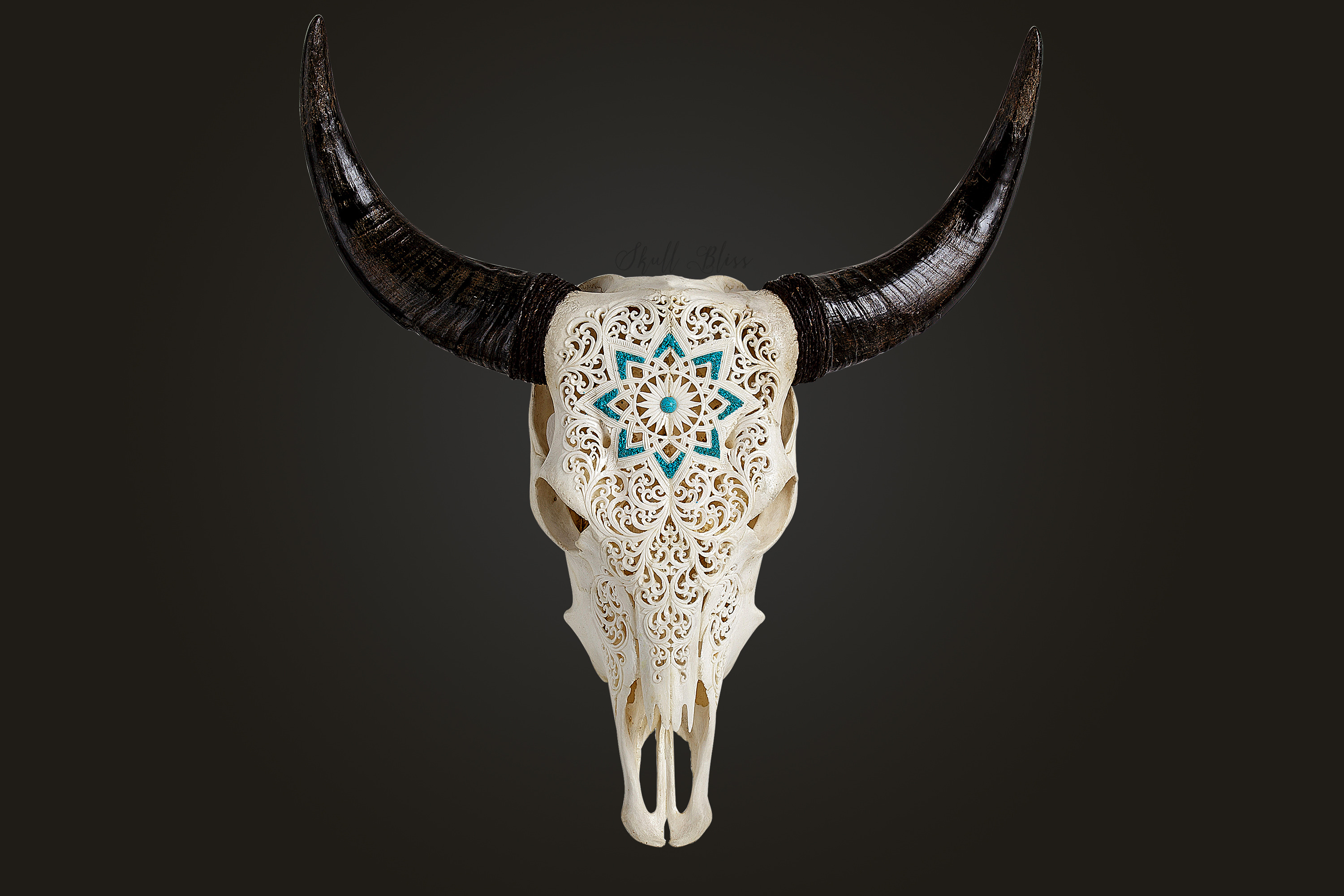 ---
Gothic Home Décor Ideas: Wall Hangings & Accents
When you've implemented all of your biggest Gothic décor ideas, it's time to focus on the details. This is the place to whip out your taxidermy and insect collections, show off your library of leather bound books, and knock off a few projects from your DIY to-do list. "Pinterest is a great source to get those inspirations going," says Astorga who adds her music gear to her living room "shrine." She recommends creating a scene with candles and other items around an entertainment space to offer "something witchy to look at" while revamping an area that can often be clunky or boring. 
"If you're trying to do this all on a budget, I'd definitely start checking out flea markets," says Astorga. "To be honest, I've found a lot of Gothy little things at garage sales and sidewalk sales." She's found well priced candelabras secondhand, and is constantly on the lookout for items that subtly unite parts of a room to the whole. She used scraps of fabric, framed artwork, and random found and gifted oddities to complete her living room design.
With her interior dialed in, her next Gothic décor adventure is the backyard. "I've been really wanting to do a Goth garden," says Astorga. She's keeping her eyes peeled for a black fountain and interesting plants with deep violet foliage. Because with a little creativity, any space (even a bright and sunny one) can show off your love for the darker side of life.