It's time to learn the ins-and-outs of Bohemian Interior Design. This article will arm you with knowledge on the history, signature design elements and the perfect oomph to your Boho dream decor. Keep reading.
---
How-To Create The Signature Bohemian Interior Design
We're all suckers for that perfectly imperfect home aesthetic with pops of color, bold hues and textures, and signature statement pieces. The effortless, free-spirited nature of this interior design style and its ability to embrace unconventionality makes it all the more craved. Although you're obsessed and may pin this gorgeous imagery to your DIY boards, you may be slightly confused on how to re-create these looks.
Plot-twist—there's no rules when it comes to the timelessly global bohemian interior design. We've got you covered on all aspects of this decor type and the ways to upgrade your look with authentic animal skulls.
In this blog, we'll highlight all things related to boho interior design, the signature color schemes, accents, must-have signature pieces, and more.
---
The origins of the bohemian style—aka: "boho"—began in 19th century Paris, France. It was inspired by unconventional performers, writers, artists, and nomads who valued creative freedom over money. This movement inadvertently started the interior design trend due to its resistance to conformity. Many of the discontent artists who embraced the bohemian lifestyle principles found themselves living eccentric, flamboyant, and promiscuous lives. Individuality and creativity were accentuated in all aspects of their lives—and of course, this included interiors.
The Bohemian Movement had a big revival in the sixties. In this era, the hippies used trippy and distinct music to rebel against the status quo and define the generation of free love.
They were inspired by the color and eccentricity from Paris Bohemian fashion and Czech Republic gypsies. Many of these elements were incorporated into their designs in addition to Native American, Asian, Indian, African, and Latin American elements.
"You'll find my heart in the deepest of oceans, the highest of mountains, the tallest of trees. I'm in love with the sun, each star in the sky, this beautiful world, and the journey of life."
Signature Bohemian Interior Design Elements
Now that you're up-to-speed on the Bohemian history, let's dive into the signature boho interior design elements.
Common hues across different boho color schemes include variations of pink, yellow, green, stone, and mauve.
On the bold side, the color schemes include contrasting colors like navy, bright aqua, orange, coral, brighter coral, green, green/yellow, stone, and bright seafoam.
Although Bohemian design is usually known for its bold color, this style can also take on several more reserved hues. A great example of this is the Farmhouse Boho-Chic color scheme—which incorporates pastel shades of dark teal, rose, moth gray, milk, and stone.
For those looking for more Earth tones, muted oranges, yellow, clay, brown, teal, and seafoam are great options.

To achieve the coveted Bohemian style, you need to use dim lighting. One of the easiest options for go-to dim lighting includes candlelight. Here are the other types of lighting fixtures that will help you reach all of your boho goals:
Fairy lights

String lights

Christmas lights

Lanterns

Paper Lanterns

Lamps with soft lampshades
You can't complete any Bohemian room without rugs. Not only do they keep the space grounded, they're comfortable for your eyes and feet. Achieve the ultimate boho interior design goals by layering and angling the rugs. This compliments the square footage while covering the widest space for the perfect boho feel.
"Nothing comes from making sense, I guess it does a bit good to go a bit Bohemian Rhapsody."
Plants, Plants, & More Plants
The one thing that's consistent across Boho styles is plants. Not only are plants a perfect accent item, they allow you to breathe easier by purifying the air and releasing oxygen into the room. Here's a list of plants that are perfect for Bohemian interior design—they can be standing or hanging:
Flowers

Succulents

Cactus
Soft & Textured Fabrics Reign Supreme
The more cozy and textured—the better! Soft, colorful, and lightweight blankets are key to creating the ultimate bohemian oasis. Add two or three layers of different, soft-textured fabrics to create a dynamic element. This can also include sari's and blankets.
Another way to switch it up is to add different throw pillows and accent pieces with different textures.
Try Out Different Patterns
When reading this, you're probably trying to figure out how this will work. The main element in this case is to keep the same color scheme and/or texture. If this is not possible, solid colored cushions are another great option.
Incorporate Authentic Woods
Adding light wood, raw wood or warmer wood keeps it casual and more natural to the eye. Having this type of wood in your furniture pieces and accessories is perfect to accentuate your boho interior.
---
The bohemian lifestyle is all about finding the truth in freedom, beauty, and love.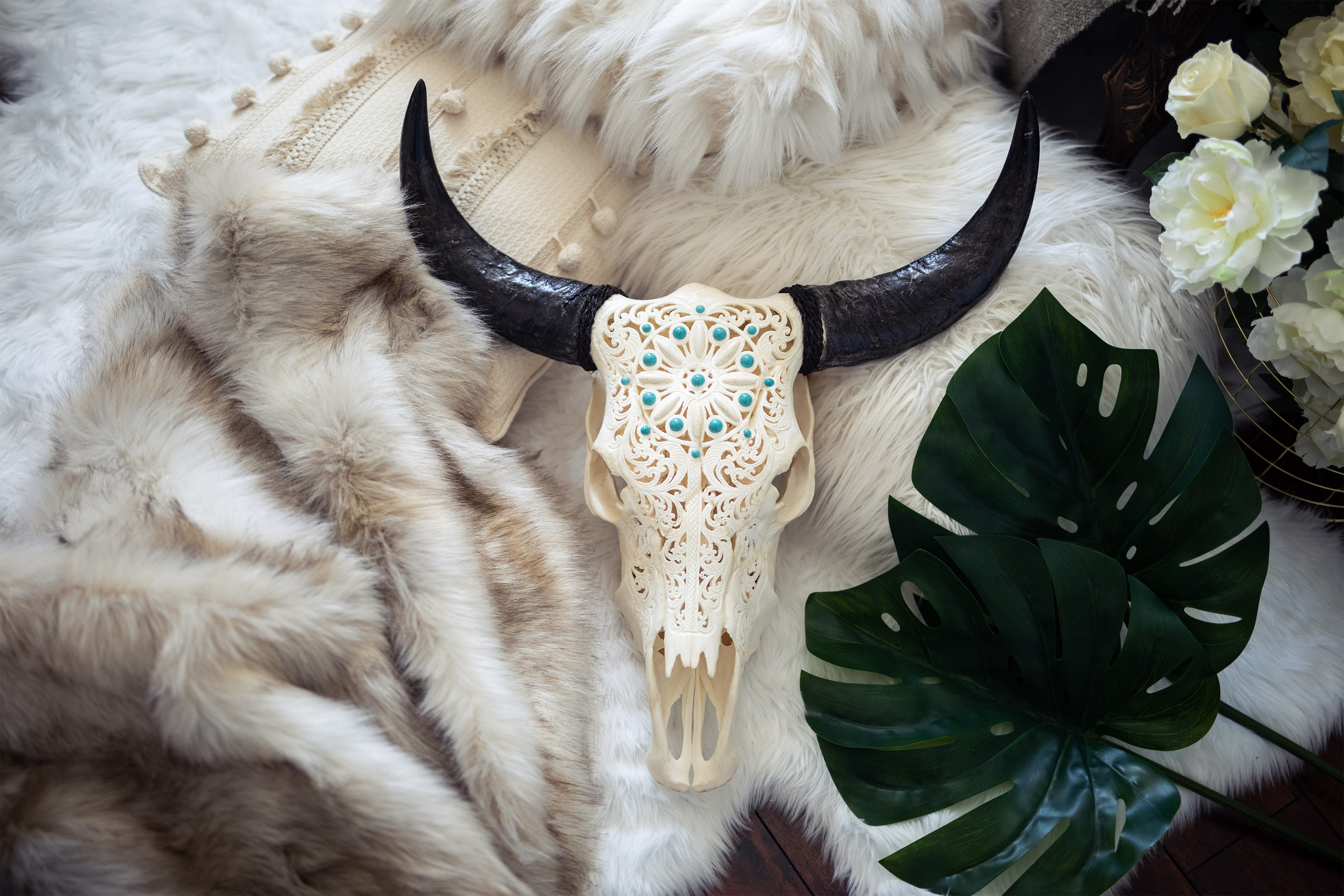 The most rare thing is someone being unapologetically themselves. The perfectly imperfect is the most true form of beauty.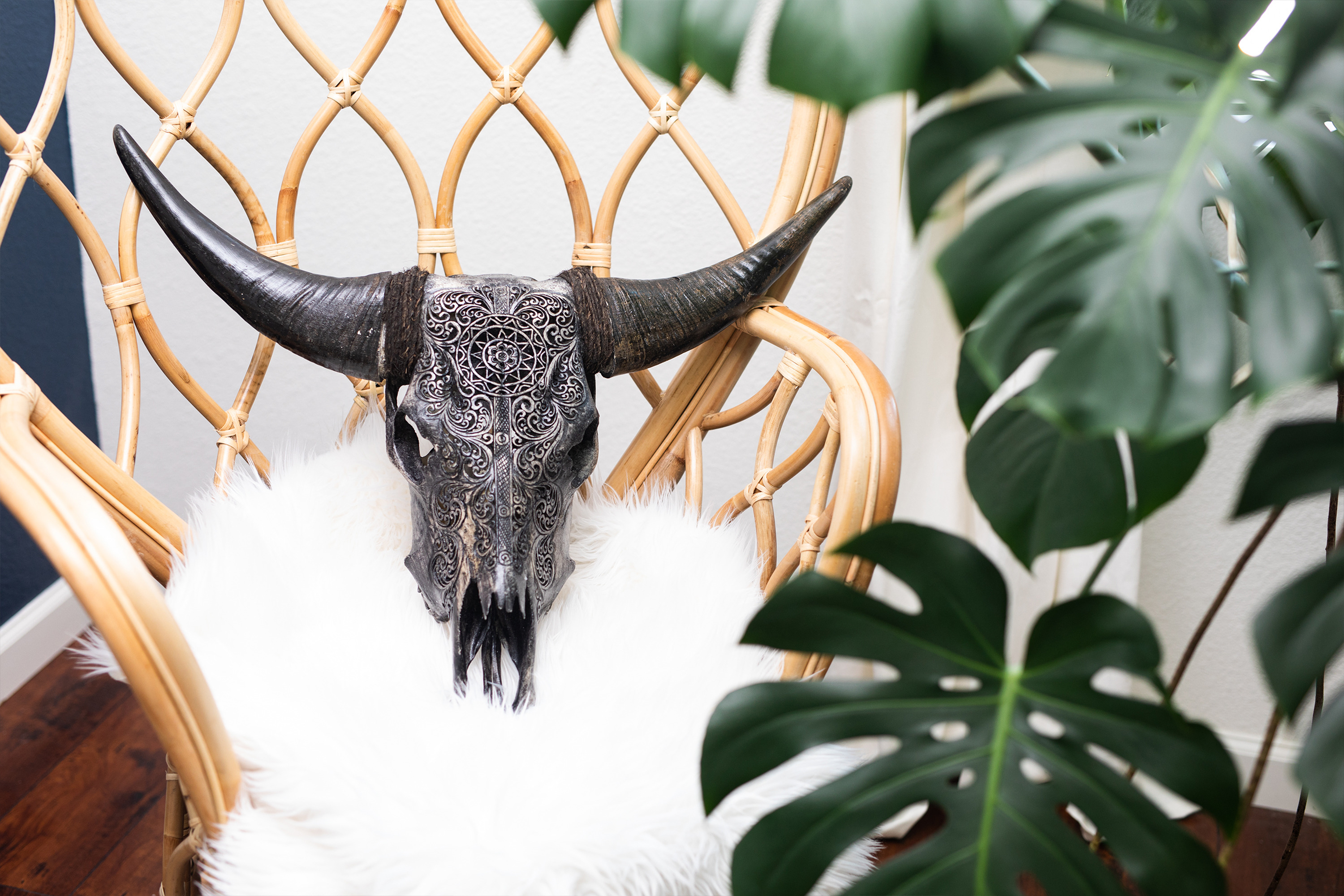 The most free and creative of souls don't need to prove anything—they're aware of their truth and it manifests throughout their personal narrative.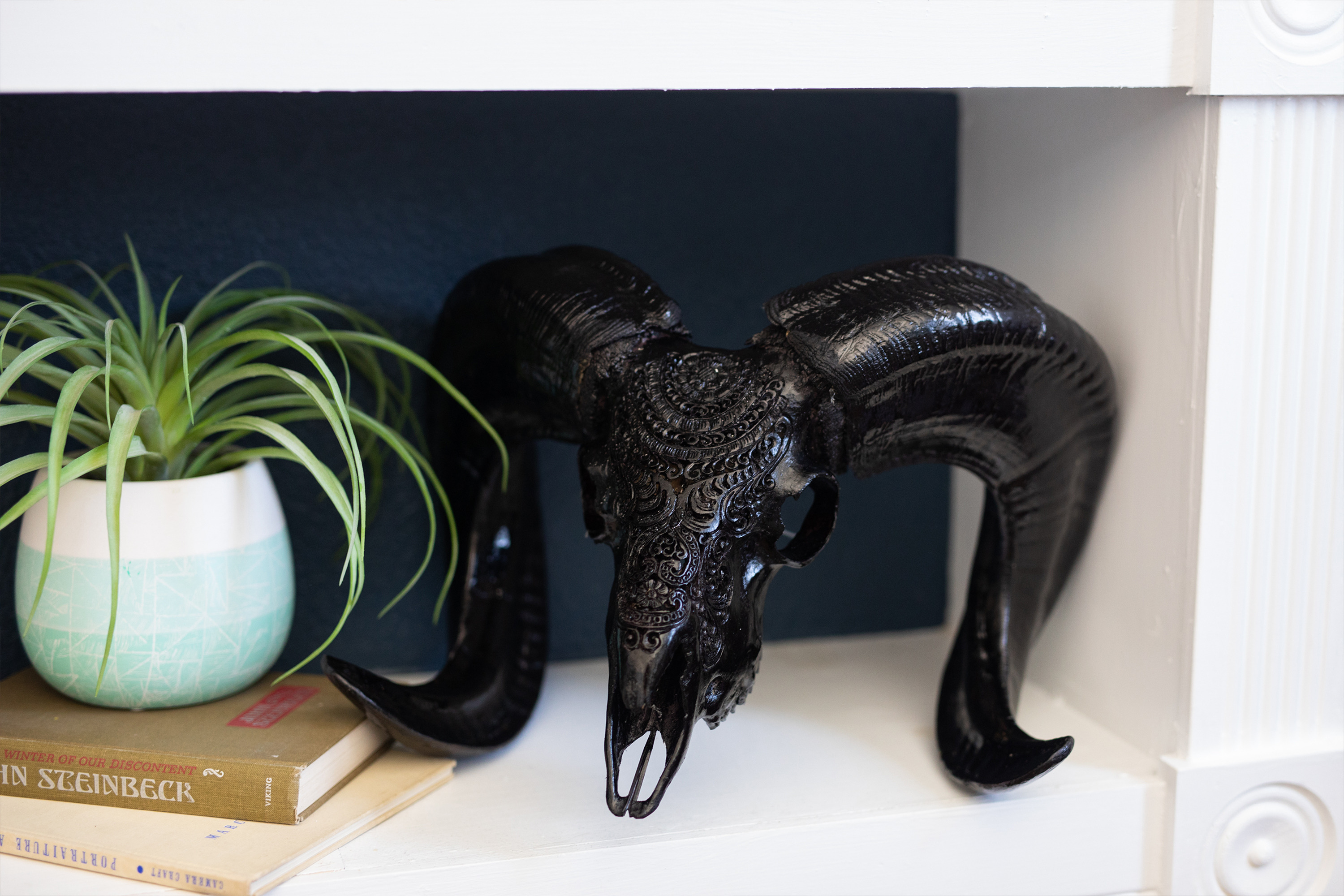 ---
Upgrade Your Walls With The Perfect Statement Pieces
What is the perfect accent piece that ties your room together? Look no further than our authentic animal skulls! Here's how they can compliment any boho color scheme.
---
Whether you're all shades of the eclectic rainbow or you're into European Farmhouse, one of our Gold Animal Skulls are the quintessential eye-catching piece for your home decor.
One of the coolest things about Bohemian Style is it's supposed to be a mixture of vintage and modern. Any of our Antique Animal Skulls will add that extra old world oomph to any Bohemian room.
As you've read in this blog, lighting is key for setting the Bohemian ambience. Our Skull Lamps are the perfect solution on top of any vintage side table or night stand.
Bohemian beauty is not the only good fit for our authentic animal skulls. Feel free to check out our entire skull collection that can compliment a variety of home decor needs.